Unlock community,

the new growth engine.
Gain complete visibility into engagement happening in digital channels.
Take action to deliver personalized and authentic interactions across the entire customer journey.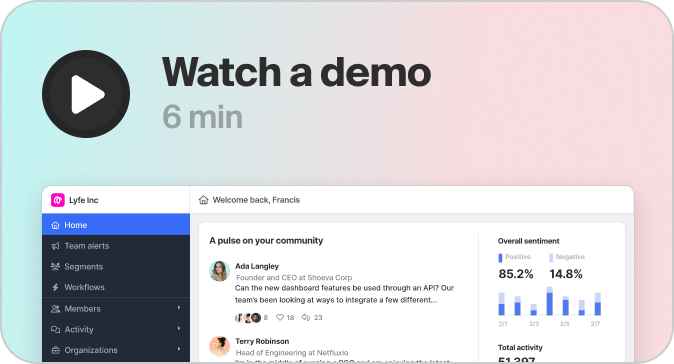 Today's fastest-growing companies choose Common Room.
We power community-led growth for these teams
Ignorance isn't bliss.
Don't lose out on 95% of the modern customer journey.
Today, your sales reps have 5% of your prospects' time during the customer journey.

Community is where decisions are made.

It's where future customers discover your solution, where users ask questions for their evaluations, and where purchase decisions are made. Common Room combines engagement happening in these digital channels, product usage, and customer data to deliver intelligent insights and automated engagement that propel success across the entire customer journey.
Just look at the results:
40% higher
conversion in sales leads
2.5x increase
monthly-recurring revenue
25% more
digital engagement
See our customer case studies:
See all case studies
Realize the power of the connected customer platform
Harness digital engagement as a key input into your customer growth engine. Bring together community, product, and customer data to unlock insights and take action.
How community-led growth works:
Activate your user-led flywheel
Grow your community. Identify and nurture influencers and fans to power up product adoption and drive growth.
Impact points
Sell with, not to. Identify and amplify your biggest power users, your best customers, and your most engaged influencers.
Segments
Build, nurture, and measure strategic initiatives such as champion programs, international expansion, new channel expansion, product onboarding, and more.
Topics
Tighten the feedback loop between your users and your product with deep insights on what your community thinks.
Take action with context
Your users and prospects are talking to you across more digital channels than ever before, and it's harder than ever to surface signal from noise. Quickly identify the people, problems, and conversations that matter most, so you can add value on the first touch.
Filters
Identify your top customers, prospects, and influencers.
Conversations & activity
Go beyond intent and uncover real engagement and actionable context. No more guessing on the "dark funnel."
Team alerts
Get alerted instantly and take action on the people and activities that you care about.
Accelerate the customer journey
Build highly personalized campaigns across modern channels like Slack, Twitter, LinkedIn, and Discord, or traditional channels like email. Have one-on-one conversations without the manual overhead, at scale.
CRM context
Identify which stages of the customer journey people are in, and act to bring them closer.
Workflows
Delight users and convert prospects faster with personalized nurture flows in the digital channels where they want to engage.
Organizations
Generate and take action on community-led pipeline.
Trusted by leading organizations of all sizes
Not only does Common Room help us save time by getting to the most important conversations faster, it has become core to how we prioritize which organizations we spend our time with.

Common Room empowers us to take action in a very direct way that clearly ladders up to the success of our business and, most importantly, the success of Asana's customers.
Joshua Zerkel

Head of Global Engagement Marketing
Common Room provides the necessary infrastructure for teams across Atlassian to scale their customer engagement efforts in a coordinated and customer-centric fashion.
Stephanie Grice

Head of Global Community & Customer Advocacy
Common Room has unlocked important insights into the community-led model that powers our product and growth.
Claire Butler

Senior Director of Marketing
See Common Room in action
Check out our library of hands-on demos to see our latest releases and learn how you can get the most out of your community.
Trust and security
Community is built on trust and so are we. See how we protect your community and business data.
Uncommon community
Join our community and get product help, share expertise, and connect with community leaders.